Why Would You Ever Want to Work with This Company?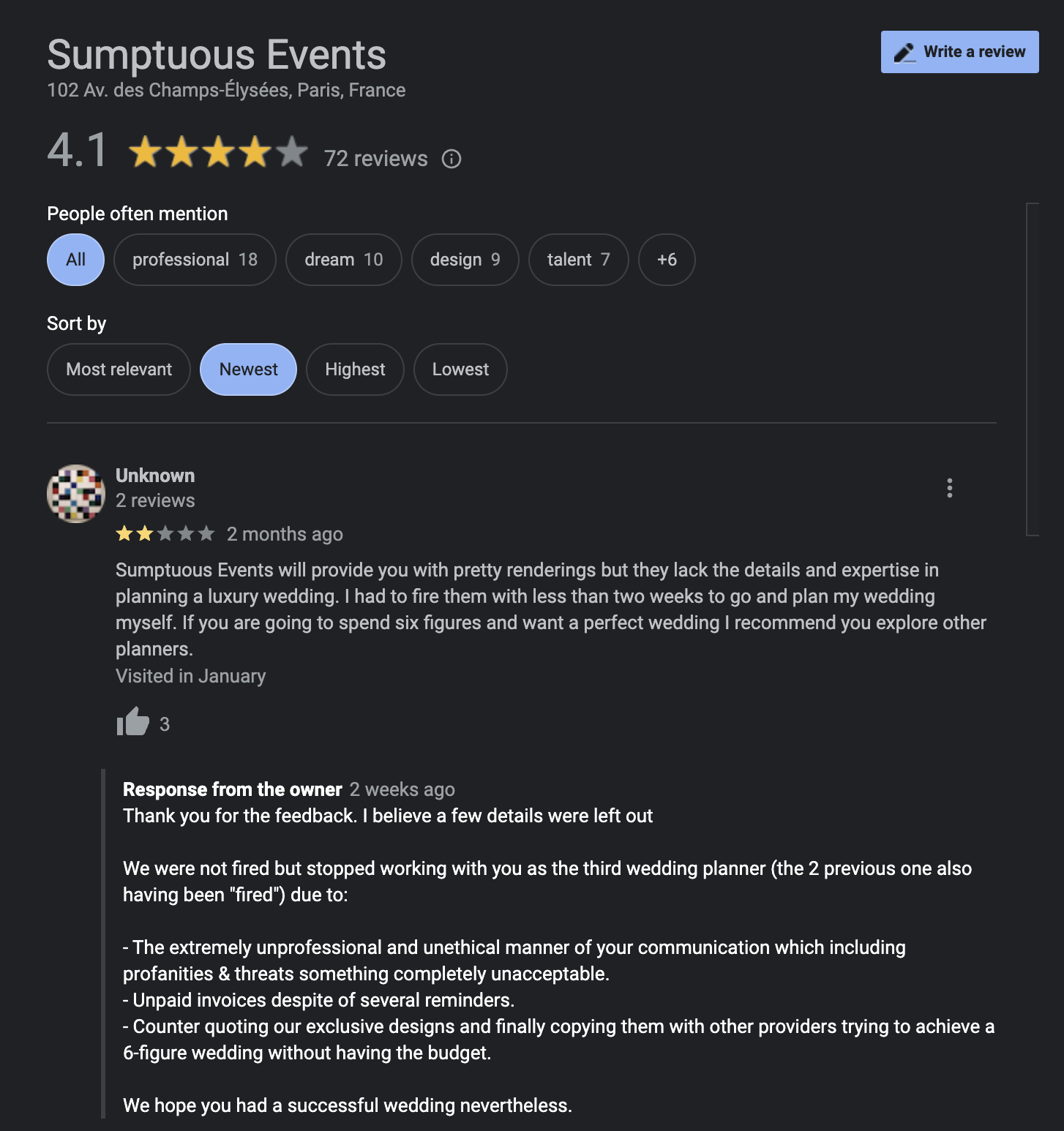 I noticed today that Sumptuous replied to my review on Google. The fact is, I terminated his services, which means he was fired. It's obvious this person has so much pride that he is blinded by the inept services he provided and wedding which he almost ruined. Let me clarify his claims:
If you can't handle being criticized with or without profanity then you shouldn't be in business. The wedding business is one where someone trusts an expensive event in your hands, you have a huge responsibility to perform. Of course, when this person pisses off your partner and jeopardizes an event that costs six figures anyone has a right to say FUCK YOU or whatever you want. Pussies shouldn't be in business. Fuck off Jean Charles.
There were invoices for items which he bought and he sent to Lake Como, but of course he fails to mention that there were incorrect items which he sent and never corrected. So when he takes accountability for messing up our pre-wedding event and attributes a cost to that then we can settle that claim. But no, I'm not an idiot who just pays invoices.
So the petty planner has the audacity to claim we didn't have a budget for a 6-figure wedding. I mean, why would you ever want to work with this petty peon? There's no way the reader will ever know what I spent or didn't spend but I'm not here to prove I spent more than $100,000 on this wedding, I'm here to shine light on the character of this individual who still doesn't understand after all these months that he was fired, and he was paid partially for his services so we absolutely have a right to use the renderings we paid for. Let's clarify, nothing was copied as I didn't like his circular podium and his floral arrangements weren't wide enough down the aisle, so we increased the amount of flowers on the left and right of the aisle. With respect to counter-quoting, we had no idea who his florist was. I reached out to a number of florists and it just so happened one of the florists I talked to was the same one Sumptuous had communicated with.
I've been in business for 20+ years and met a lot of idiots and jokers. This guy Jean Charles ranks at the top now. In my opinion, he should be completely banned from planning anyone's wedding as he demonstrates little to no accountability for his mistakes.