Jean Charles "Knows" How to Plan Weddings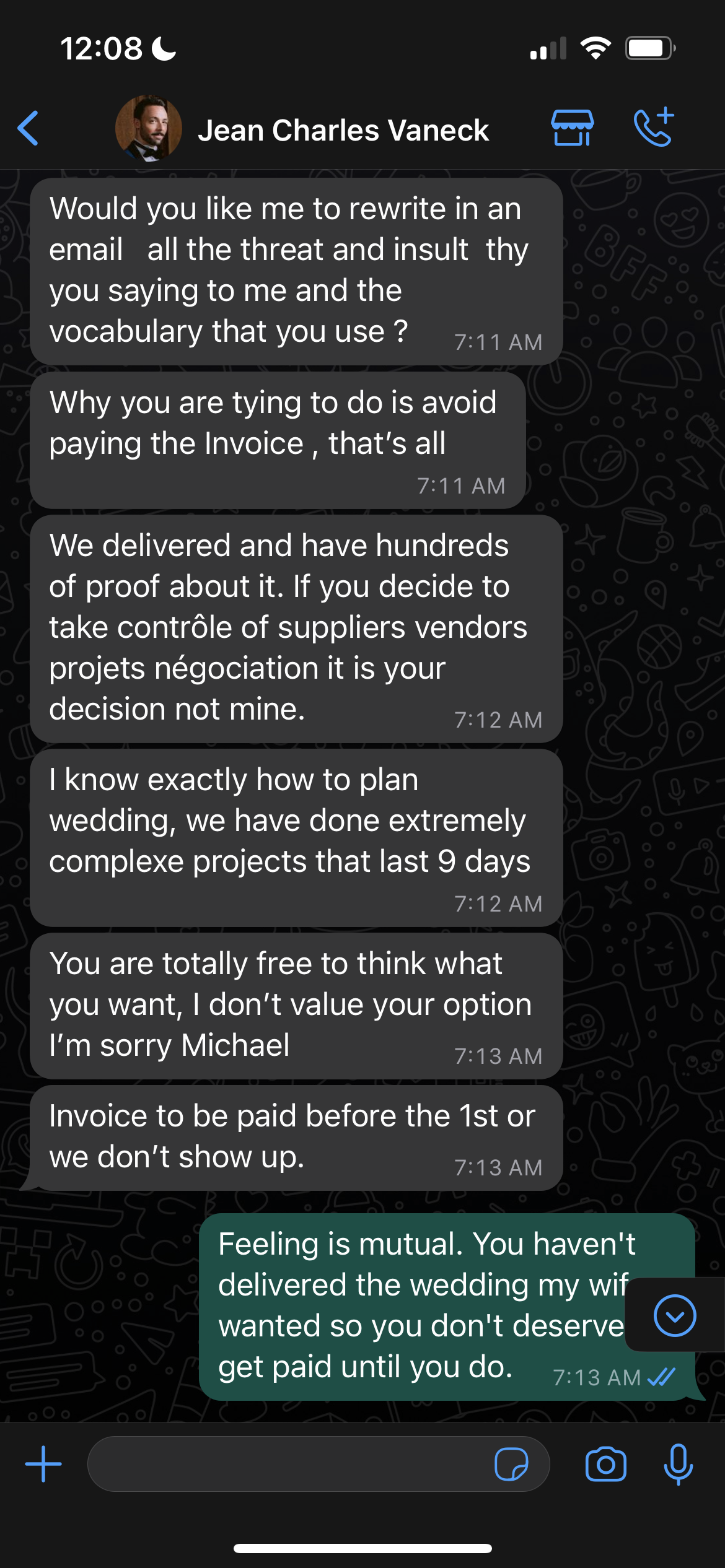 I want to share this communication because it's important to understand how the wedding industry works. Like many other freelance jobs, you pay a deposit, which we did. There were three installments, 9000€, 9000€, and the final payment was to be 8000€. We paid the first two amounts, but after all the issues I had with Jean Charles I did not feel comfortable wiring him the last transfer.
I had assumed control of planning my wedding at that point and I felt it was fair to pay him after performance of services. Hey, if we can send 9000€ before you do anything then it's fair for us to pay you after you complete the task. It should go both ways, the client shouldn't always be the one footing the bill without any protection. Not to mention, I had to change travel plans and park my ass in Milan the last two weeks to meet with vendors in Como. The time and extra costs I incurred shouldn't have been my responsibility but ultimately it was my wedding so everything falls on me. That is the reality of the situation.
What I don't respect about people is when they boast of their past accomplishments. First of all, I have no idea if you've ever delivered hundreds of weddings or events, second of all, how would I know what percentage of those clients were happy with the outcome?
In the end, he didn't take my offer of showing up to complete the wedding to get paid. In my book, that's a lack of integrity and absolute disregard for all of the blunders he was responsible for. I ended up hiring Happy Moments Collector who was one of the most pleasant planners I had talked to throughout my entire wedding planning process. The Founder and CEO Anastasia offered me free advice initially as she didn't feel confident taking on the job. In the end we agreed to work together because I convinced her that 95% of the wedding planning details were finished, I just wanted someone experienced at Villa Balbiano on the day of the wedding to help coordinate the vendors.